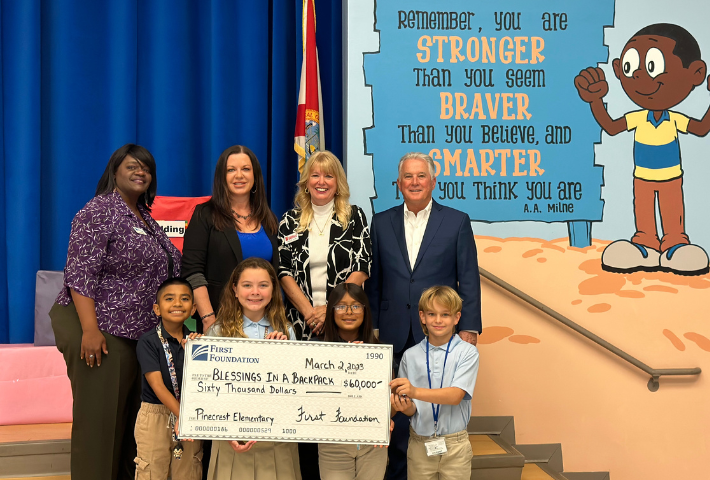 3 minute read
As the number of people struggling with food insecurity rises, First Foundation Bank continues to grow our support for organizations tackling this crisis. With our expansion into Florida, our Community Impact Team sought to partner with an organization making an impact on children facing food insecurity. Our team became aware of the tremendous need in the area, as twelve Title 1 schools were on the waiting list in Southwest Florida for funding to get the Blessings in a Backpack food program. Pinecrest Elementary School in Immokalee has 100% of their students that qualify for the Blessings program, but the school had been languishing on that waiting list for over three years.
First Foundation made the commitment to not only fund the launch of the program at Pinecrest Elementary but provided funding of three times the required amount for a new program, making this the largest commitment in the ten-year history of First Foundation's "Supporting Our Communities" grant program.
Blessings in a Backpack of Southwest Florida steps-up by feeding children on the weekend. Every Friday afternoon, children receive backpacks filled with kid-friendly, ready-to-eat items. Students return every Monday morning with an empty backpack, a full stomach, and an eager mind. The organization currently provides weekend meals to over 7000 students in Lee and Collier County, and those schools have seen that test scores, reading skills, positive behavior, general health, and attendance have improved dramatically because of children getting the nourishment they need.
First Foundation was first introduced to Blessings in a Backpack of SWFL through Heather Tice, our Marketing Manager – Events & Community, as she is a current board member of Blessings in a Backpack, as well as being a passionate advocate for children in need. We began our partnership with Blessings in a Backpack in 2023 with a "Supporting Our Communities" grant and an additional offer of pro-bono consulting services. This three-year commitment from First Foundation provided the funding to launch the long-awaited Blessings in a Backpack program at Pinecrest Elementary in January 2023.
"The partnership this year with First Foundation Bank has been huge," said Cecilia St. Arnold, Executive Director of Blessings in a Backpack of Southwest Florida. "First Foundation awarded us a grant for three years of operations of a new program at Pinecrest Elementary School in Immokalee. First Foundation going over and above the financial commitment required to launch a program at a new school and covering three years for 153 children is extremely poignant! The school has been so grateful for this partnership, and the impact will have such significant outcomes for these students. First Foundation has already provided over 2907 hunger free weekends for these students in just the first five months of 2023!" 
Ashleigh Dean, Pinecrest School Counselor commented "Students look forward to getting their food packages every week, as it is this food they count on to get them through the weekend. Before the program launched in January, many of our students would eat their last meal on Friday and wait until Monday to eat again. When we meet the needs of our kids, they are ready for learning in the classroom. We are thankful for Blessings in a Backpack and First Foundation Bank. They truly are our angels!"
The program at Pinecrest Elementary School in Immokalee is an example of how First Foundation's partnerships with local nonprofit organizations can make a positive impact in the communities we serve. By working together with nonprofits, we can help to address critical issues such as childhood hunger and make a real difference in the lives of children in need.
The partnership between First Foundation Bank and Blessings in a Backpack of Southwest Florida is a testament to the power of collaboration and the importance of community involvement. By working together, we are helping to make a positive impact on the lives of children in need and ensuring that they have access to the food they need to grow and thrive.
To learn more about Blessings in a Backpack of Southwest Florida and the great work they are doing in the community, visit: https://swfl.blessingsinabackpack.org/