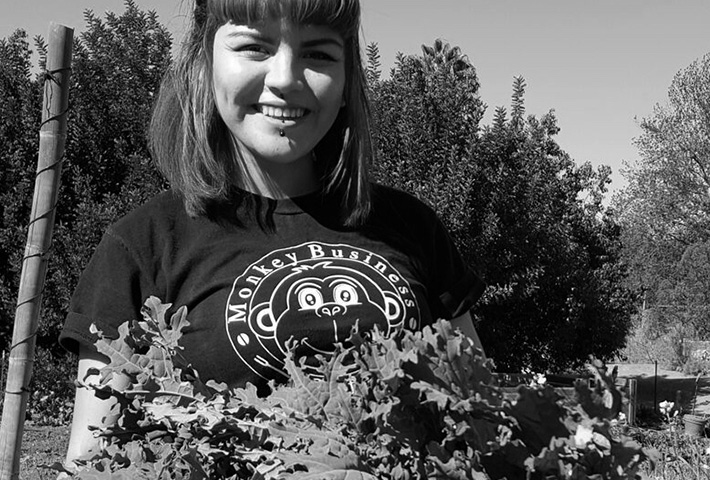 Food and philanthropy aren't often thought of together. But Monkey Business Café has found a way to combine food prep and service into community outreach. Situated on a quaint street in Fullerton, Monkey Business Café incorporates a farm-to-table approach while serving up delicious breakfast and lunch specialties. Regulars and newcomers alike order and enjoy items such as Javi's Breakfast Sandwich, Egg McMonkey, The Outlaw Burger, Monkey Melt Tuna Sandwich, and the Chicken Strawberry Avocado Salad. The food gets five stars from me, but I am a sucker for high-quality inexpensive food. The real secret to this place is the magic behind the counter. This enterprise has a mission:
Monkey Business Café is a social enterprise serving delicious food to fellow world changers while providing marketable employment skills to foster and at-risk youth.
Carissa and her dad, Bill Hart, have been caring for foster children for years by running group homes throughout the community. They created Hart Community Homes where they served hundreds of youth, yet they saw a pattern that bothered them. Finding a first job can be challenging for any young person, but it was especially difficult for their youth who have experienced challenges in their childhood. Already hampered by low self-esteem and other emotional challenges due to their experiences as abused and abandoned children, the earliest residents of Hart Community Homes faced rejection when applying to entry-level jobs. Some former residents who had aged out of the foster system returned to Hart's with nowhere else to go. They were unemployed, hungry, and essentially with nowhere to live.
Bill and Carissa decided to launch a business enterprise in food service to create jobs for their youth. It would be the participant's first step to establishing a resume and gaining skills. And through Hart's generosity, in 2005 the building on the corner of Lemon and Amerige in Fullerton is where Monkey Business Café opened its doors.
Donations helped them purchase a refrigerator and kitchen appliances, as well as make building improvements. Tables and chairs from garage sales were repurposed. And along with a lot of sweat equity, love, and a mission that resonates with the public, Monkey Business Café began serving their first customers. It has become a fixture in the Fullerton community ever since.
Monkey Business Café serves breakfast and lunch to in-restaurant diners, and also offers online ordering and catering. They have also branched out to selling the Monkey Business Café product line of seasonings and fresh treats using ingredients harvested at the Fullerton Arboretum. Several of the managers are former residents of Hart group homes. They now mentor the incoming youth and provide on-the-job coaching.
First Foundation has been a friend of Monkey Business Café for several years and this year we are supporting their expansion into Irvine and launch of a new food truck. We are also excited to help them build a fundraising board that will sustain their growth and impact. Part of the work we are doing with them includes creating a template that could be replicated in cities across the United States.
So if you are like me and appreciate good food and a good cause, be sure to check out Monkey Business Café – it is the only place I know of where you can help the lives of others while enjoying a delicious chicken strawberry avocado salad!