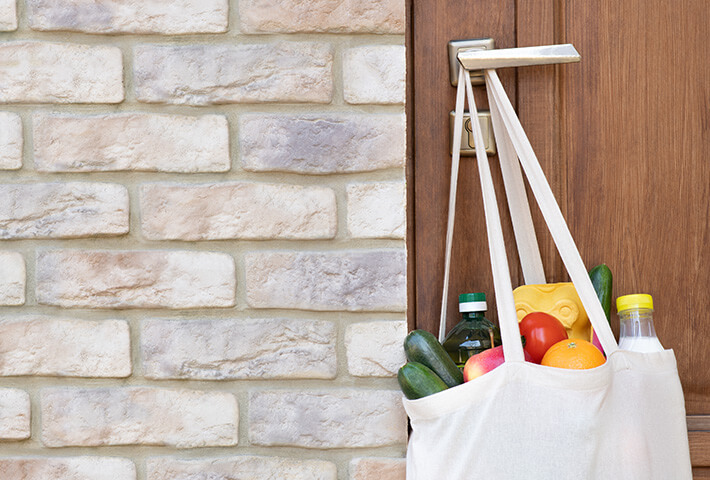 As a philanthropy advisor, our role is to help connect our clients' passions to nonprofits that fit their mission, values, and goals. We have guided many clients through this unprecedented time on how to best make impactful donations, and are engaging in ongoing conversations with local nonprofits and evaluating how well they are adapting to continue serving the needs of the most vulnerable populations.
Several of our clients chose to make contributions early in the year, given nonprofits' financial strain, and supported organizations that are addressing food and housing insecurity as a first line of funding. According to the California Food Bank, California produces nearly half of the nation's fruits and vegetables – yet, pre-COVID-19, 1 in 8 Californians struggled with food insecurity. "Food insecurity" is the occasional or constant lack of access to the food one needs for a healthy, active life. Seniors, especially those who live alone, are the most vulnerable. With the mandate to limit exposure for those who are 65 and older, seniors have a difficult time accessing food supplies when needed. Many also are physically unable to cook meals and provide a healthy diet for themselves. In addition, children of single or dual working parents who live in food insecurity rely heavily on subsidized school breakfast and lunch programs as their daily nutrition source. Without transportation to and from school for these food services, these kids are faced with a new food challenge. If their parents lose their jobs or are furloughed, the food insecurity pressure increases.
While nonprofits are experiencing a loss in revenue due to canceled events and a drop in donations, with potentially up to 30% predicted to not survive through the pandemic, many are rising to the challenge and adapting their programs to meet the basic, urgent needs of the most vulnerable populations. Below are a few examples.
Catarina's Club
Located in Anaheim, Catarina's Club mission is to provide warm meals, affordable housing assistance, and job training to homeless and low-income families throughout Southern California. It aims to provide consistency in these children's lives through something as simple yet meaningful as a nightly dinner. Founder Chef Bruno, who named the Club after his mother, has been serving five times as much pasta to both children and their families after COVID-19 hit. Bruno, who also owns the White House Restaurant, acted quickly to modify the Feeding the Kids program by offering free hot pasta in to-go containers and uncooked pasta for families to drive by and pick up to take home for the whole family. After hearing stories of families who either lost their jobs, were furloughed, or expect a significant wage reduction, Chef Bruno is working to not just provide a nightly meal, but also trying to alleviate the expense of food and groceries by including a grocery store gift card in each pantry bag.
Caterina's Club has counted on two large events in September and December for roughly 50% of its annual funding: a Gala held in the second week of September, and the KFI Pastathon held at Christ Cathedral the first Friday each December. Each event raises between $400,000 and $500,000. Many larger events will likely be prohibited through the end of the calendar year, which will deplete their reserves and impact their ability to deliver the program to those in need in 2021. Furthermore, typically 109,000 pounds of pasta and sauce are donated at their annual KFI Pastathon, and the sauce generally lasts their program throughout the year. Since the COVID-19 outbreak, they have been cooking and donating over 9,000 pounds of pasta every five days, and they anticipate running out of pasta by mid-summer. Last year, Caterina's Club served roughly 1,000,000 meals during the year. As of May 8, Caterina's Club has served over 565,952 meals. They anticipate meals over the next couple of weeks to rise significantly (at least over 250,000 meals) as they begin delivering food to motels where some of the kids live.
Bracken's Kitchen
Bill Bracken is the founder of Bracken's Kitchen in Garden Grove, another organization that has adjusted the way they do business. Bracken's Kitchen recovers food, prepares meals, and distributes them to nonprofits serving kids and families in need. Its mission is to recover, repurpose, and restore both food and lives through food recovery, culinary training, and its community feeding program. To ensure safety of the employees, an early morning and afternoon crew was established. During the half-hour window between these two shifts, they deep clean before the afternoon crew starts.
Bill responded to the increased need of meals by establishing a COVID-19 Emergency Response Fund and hiring out-of-work restaurant employees from Sapphire Catering, O.C. Mining Company, and the Farmhouse at Roger's Garden. Each week, they keep surpassing meal production. Recently, they distributed more than 40,000 meals for the week. In eight short weeks, they produced 298,000 meals. Bill was recently profiled on Good Day LA as one of the "Heroes Among Us."
Project Hope Alliance
Located in Costa Mesa and serving children across Orange County, Project Hope Alliance (PHA) serves nearly 700 children experiencing homelessness by placing full-time case managers on low-income K-12 school campuses. PHA has increased their efforts to extend services to children and families living in motels. They address needs including food, clothing, and transportation; provide regular check-ins, educational support, adult mentors and 'home' visits; and connect families to needed resources. Led by Jennifer Friend, PHA's goal is to help prevent today's homeless children from becoming tomorrow's homeless adults.
Not graduating from high school makes a youth 346% more likely to be homeless as an adult. At PHA, 81% of their high school seniors graduate, compared to the national homeless average of 64%. PHA's primary objective during this pandemic is to ensure that homeless kids and youth receive all the resources generally provided by the schools, such as nutritious food, access to high functioning internet, and a computer or device to access instruction and assignments. To date, PHA has provided 118 families in motels, including 225 children, with 165 Chromebooks, Wi-Fi hotspots, and 575 bags of produce and pantry goods. PHA is providing weekly follow-up visits with additional pantry goods and online learning resources.
Need for Support
The nonprofit community needs our support. According to a 2019 report by the Center for Civil Society Studies at Johns Hopkins University, nonprofits account for roughly one in 10 jobs in the U.S. private workforce, with total employees numbering 12.3 million in 2016. Over the decade since 2007, nonprofit jobs grew almost four times faster than the for-profit ones.
If you'd like more information or guidance about philanthropic options where you can have an impact according to your interests and values, please reach out to the Philanthropy Services team.
---
Thank you Pamela Cohen for your contribution to the article.