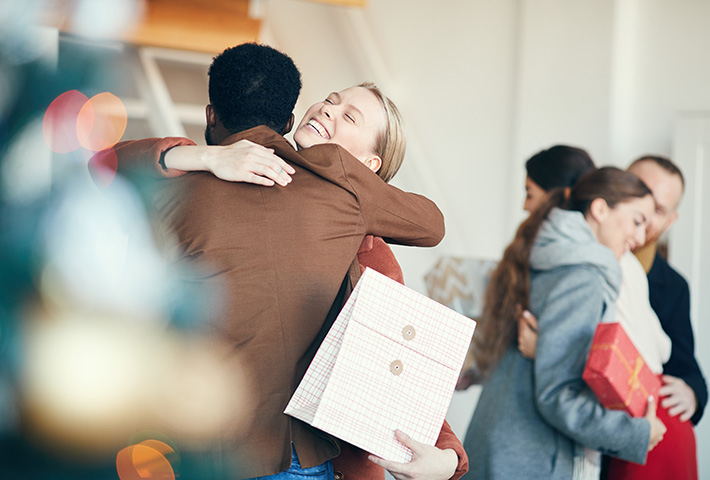 2 minute read
As we celebrate the holiday season and close out the end of another year, we are reminded of the things for which we are grateful. It also reminds us of the importance of giving back to those in our community who are less fortunate, as well as the charitable organizations providing the services to support those in need.  While recently volunteering at Bracken's Kitchen for their annual food drive, I was reminded of how simple things such as a few hours of volunteer work or a monetary donation can bring joy to a family and an opportunity to bond during this season of giving.
Whether we feel inspired to bring happiness to others during the holidays, or our inspiration comes from taking advantage of tax deductions before year-end, every dollar and volunteer hour is vital to local charitable organizations. These nonprofits depend on crucial year-end contributions to continue providing services to an increasing number of people due to the current economic climate, as well as providing that financial bridge for the organization into the new year. This is a time where all nonprofits are working tirelessly to make sure they carry out their mission, which typically is especially impactful during the holidays. 
Many volunteers and donors also want to make sure they make their charitable monetary donations by the end of the year for tax purposes. This creates an ideal situation for both the donor and the organization, as the donor can maximize their allowable deduction for charitable giving while the nonprofits receive a funding boost during a critical time of year.
If your family is inspired to give back to the community, it is important to conduct your due diligence on an organization before contributing. If you are considering making a financial donation but are not familiar with the nonprofit, you can check the nonprofit organization's status by going to GuideStar or you can run a search against the IRS database.
Any act of giving during the final days of the year can also be a meaningful way to bring your family together. Work with your family members to find a nonprofit organization that you are all passionate about and then take the step to make a financial contribution or schedule a time for all of you to volunteer together. Volunteering as a family can be a lot of fun for all generations, whether it is distributing toys, preparing sandwiches, or singing carols for the residents at a senior center. This will create a valuable opportunity to teach children and grandchildren that gift giving extends beyond their own family and out into the community. 
If you need help researching a nonprofit or identifying organizations that fulfill your philanthropic passions, contact the Philanthropy Services Group.