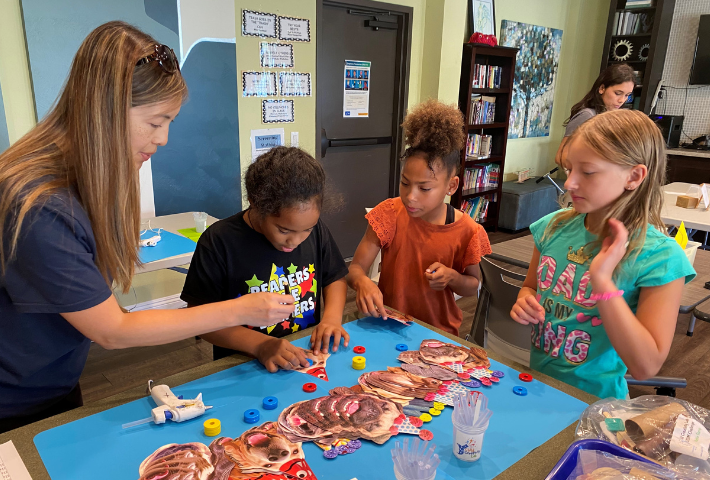 3 minute read
First Foundation proudly supports the nonprofits with which our employees are involved. Two of our current community partners in Orange County, Child Creativity Lab and Innovative Housing Opportunities, are connected to our employees and each other. Child Creativity Lab (CCL) has hosted programs at Innovative Housing Opportunity's (IHO) affordable housing communities in the past, which allowed First Foundation to unite both nonprofits to benefit a community in Anaheim, CA, with a fun summer program.
Innovative Housing Opportunities builds high-quality, affordable housing throughout the region. They have various housing communities that provide services for more than 1,200 residents. The Rockwood Community in Anaheim, CA, was built next to an elementary school for families experiencing homelessness. Designed to become a community for all who live there, it has barbecue areas, a playground, and communal spaces which are perfect for hosting events.
Laguna Hills Branch Manager, Kim Searles, became involved with Innovative Housing in 2021 and joined the Board of Directors shortly after. She currently serves on the finance committee and appreciates all IHO does to support families and individuals facing housing crises in California.
Child Creativity Lab was born out of the need to bring creativity and innovation to local schools through hands-on STEAM (Science, Technology, Engineering, Arts, Math) programming. Their creativity-enhancing curriculum promotes skills such as problem-solving, collaboration, and communication. While arts and other creative programming are getting cut at schools, Child Creativity Lab has set out to fill the void through STEAM.
CCL has grown to serve school districts and nonprofit organizations across Orange County over the past ten years, providing hands-on opportunities to learn STEAM concepts. CCL's programming integrates Common Core and Next Generation Science Standards (NGSS) into creative, curated activities facilitated by trained educators who make STEAM accessible to all students, especially those from communities lacking enrichment programming. Due to their excellence in STEAM, Child Creativity Lab has been awarded the "Outstanding Arts Organization" of 2023 by ArtsOC.
The Child Creativity Lab Summer Entrepreneur Camp encourages kids to create a new product while using all the steps necessary to launch an idea, including designing the product, budgeting materials, and marketing. The kids use unconventional, upcycled materials to reuse, renew, and reimagine as they learn to problem-solve and look at materials differently. The campers make Shark Tank-style presentations on the last day of camp to show off their hard work and their new product.
Through this camp, hosted in 2023 at Rockwood's communal spaces, kids learn entrepreneurial skills while receiving meaningful financial literacy education. They are able to think outside the box to solve problems, all within a safe environment with educators ready to help them work through their ideas. The partnership between CCL and IHO highlights how great nonprofits can come together and bring exciting and creative events to kids' lives.
Employees who participated in the camp had the opportunity to help kids each step of the way. Rosanna Lafarga said, "I loved having the opportunity to see creative minds at work. The students developed business skills in this program that will last a lifetime."
"Thank you for the partnership that made it possible for the kids at Rockwood to experience the innovative and very fun Entrepreneur Camp this summer," said Brenda Walters, Community Impact Manager of IHO. "The children who attended the camp were curious, engaged, and intent on completing their projects. It was very cool to see their creative product ideas!"
"We're thrilled to have the support of First Foundation and to be partnering with Innovative Housing Opportunities," said Katy McInnes, Director of Partnerships at Child Creativity Lab. "We believe every child deserves access to creative learning experiences, and we're excited to provide that to students in Orange County."
The success of this partnership highlights the importance that First Foundation places on not only supporting impactful organizations but also bringing together organizations that can assist each other by sharing their strengths and resources to bring meaningful experiences to the community.
To learn more about Child Creativity Lab, visit: www.childcreativitylab.org
To learn more about Innovative Housing Solutions, visit: www.innovativehousing.com