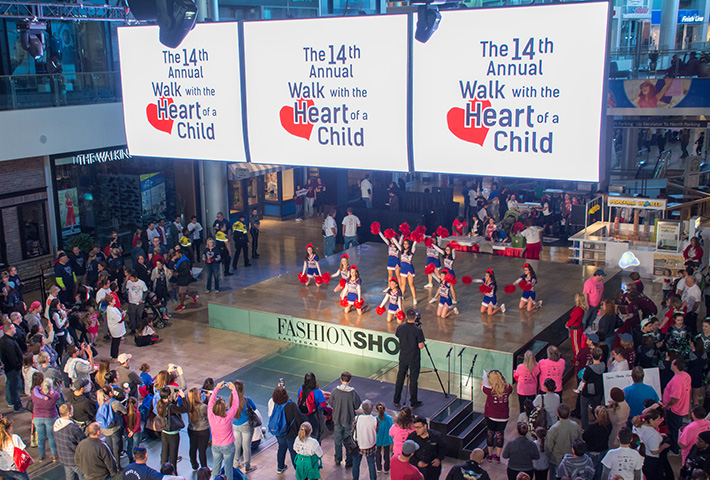 3 minute read
First Foundation believes in supporting the wealth and well-being of each and every one of our clients; and one of the ways we aim to support the overall well-being of clients is through our community partnerships and relationships. One of those very important partnerships is with the Children's Heart Foundation in Las Vegas, Nevada.
The Children's Heart Foundation's mission for those they support is similar to ours, supporting the well-being of children affected with lifelong heart conditions. The foundation works with families in Las Vegas, Nevada who have a child diagnosed with a congenital heart condition. Heart complications are the most common type of birth defect and the number one cause of death during the first year of life. They believe it is important for all children to laugh and play, especially those born with lifelong medical issues.
The Children's Heart Foundation was founded by a passionate group of parents and Nevada pediatric cardiologists, who had hands-on experience with the emotional and financial toll a congenital diagnosis can bring. The foundation helps families in need navigate through the emotional time, and provides education, financial support, and community support programs.
First Foundation has been connected to the Children's Heart Foundation for three years through Jason Naugle, SVP, Regional Manager of Nevada. Part of the community First Foundation wants to partner with and help also includes their own team, and Jason sits on the board of Children's Heart Foundation and represents not only First Foundation, but also his family. In 2020, Children's Heart Foundation was one of the grant recipients in First Foundation's Supporting Our Communities initiative. Through this partnership, First Foundation can help develop a deeper relationship with the nonprofit, while also supporting a team member.
"The Children's Heart Foundation has played a big role in my life and my family's life," says Jason Naugle. "Fourteen years ago, my daughter was born with a heart condition called Transposition of the Great Arteries (TGA). Due to this diagnosis, my daughter had to go through two open heart surgeries and several other heart procedures during her first three years of life."
"Thankfully, we were introduced to the Children's Heart Foundation. They were with us every step of the way from group counseling, financial assistance, and overall family moral support. Without them, our lives would have been much more difficult, trying to manage the doctors' appointments, home therapy, as well as the mental and emotional overload."
One of the many resources available through Children's Heart Foundation is Camp-Mend-A-Heart. Camp Mend-a-Heart is a cost-free, medically supervised camp for children ages 7-17 receiving medical treatment in Nevada who are born with or develop a heart condition. It is the only medically supervised camp of its kind in Nevada, and allows for children with medical conditions to enjoy a summer program free from fear or shame about their condition.
Jason works not only on the board representing families just like his, but also to help raise funds for the organization. Jason has rallied to help fill backpacks for children who are admitted to the hospital in emergencies, and donated toys for Maggie's Garden and their holiday program, so a child who is about to undergo a heart procedure can choose a toy to help them through their procedure.
Children's Heart Foundation's signature event is quickly approaching, the 18th annual "Walk with the Heart of a Child" is being held on May 22. The event will be in-person this year as well as featuring a virtual live feed. The event raises money and awareness to help families in Nevada with children who are affected by heart issues.
"As a parent with a child born with a heart condition, I am honored and grateful to serve as a Board Member for the Children's Heart Foundation. It is my goal to continue to the success of these programs and to bring educational awareness about heart conditions children may be born with," states Jason.
---
To learn more about First Foundation's efforts with nonprofits visit our Community page here: https://www.firstfoundationinc.com/community
To learn more about Children's Heart Foundation and all the great work they are doing in the community, visit: https://chfn.org