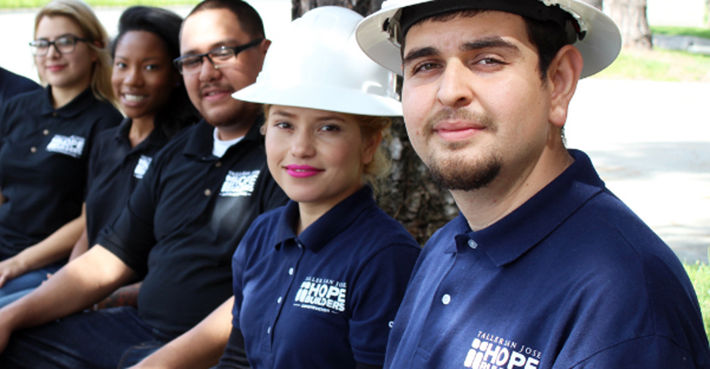 3 minute read
Empowering Orange County's Young Adult Workforce
Taller San Jose Hope Builders has a 25-year history in helping young adults forge a path to a productive life free from the cycle of poverty that they may have experienced growing up. Started by Sister Eileen McNerney, from St. Joseph's of Orange, Hope Builders empowers Orange County's young people through mentorship, life skills, and job skills training to move past the barrier to advancement and help them see a life outside of their surroundings. By providing the tools and practical skills, Hope Builders brings hope to the community.
As part of its extensive solution, Hope Builders offers free job training programs that prepare young adults for a career in either construction, healthcare or information technology. Upon completion of the training program, Hope Builders initiates a thorough process to help the newly minted trainee find a job, with the ultimate goal of entering a successful career and becoming self-sustainable. It is estimated that its programs help save nearly a million dollars in annual savings through a reduction of public benefits used by their students.
First Foundation has partnered with Hope Builders for three years. Over that time period, our employees have participated in their mock interview panels and provided more than 70 hours of volunteer service to the organization. During these interviews, employees conduct interviews with students who have recently completed training courses and are working on their soft skills, including interviewing for a job. They do mock interviews with a number of individuals and are then provided with feedback on how they answered standard interview questions, their presentation, and how they can improve. The skills gained from this experience can be vital in helping individuals prepare for the interview and eventually land the job.
First Foundation volunteers have also benefited from the experience:
"I loved it! It's such a great opportunity to help these wonderful kids succeed. I truly enjoyed it and would love to do it again," Lorraine Urias, Client Service Manager, Indian Wells.

"It is such a great experience! I look forward to volunteering again. I wish I had that resource when I was younger and starting my work experience," Vanessa Corpuz, Financial Service Representative, Indian Wells.

"All of the students were extremely professional and interviewed so well," Adele Green, Director of Small Business, Irvine.

"My experience was great. I've volunteered numerous times both in person and virtually. The interviews run smoothly and the students are very impressive," Edith Gurrola, Financial Service Representative, Seal Beach.
In response to Covid-19, Hope Builders transformed their training programs into a hybrid learning format, combining face-to-face instruction with web-based online learning as well as virtual case management, therapy, and career readiness courses to continue to promote professional development and healthy behaviors.
85% of the students who complete Hope Builders training programs are able to find jobs and maintain employment for more than six months after training. This is a critical metric that signals future success. They are looking to double the number of young adults served over the next three years by focusing on placing graduates of the training into fast growing industries in Orange County, including construction and healthcare.
"We are so grateful for the generous partnership of First Foundation. Their volunteers and financial support enable Hope Builders to provide the mentorship, skills training and support services necessary for moving young adults from poverty to prosperity," Shawna Smith, Executive Director.
First Foundation hopes to continue to support this nonprofit partner that is doing amazing work in the community.
---
To learn more about First Foundation's efforts with nonprofits visit our Community page here: https://www.firstfoundationinc.com/community
To learn more about Hope Builders and all the great work they are doing in the community, visit: https://tsjhopebuilders.org