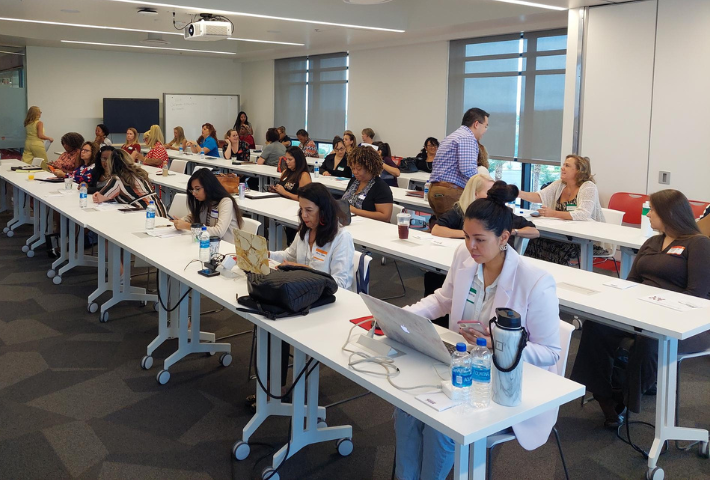 3 minute read
The Nevada Business Opportunity Fund (NBOF) delivers financial and educational information and opportunities needed for aspiring and current entrepreneurs to start or expand their small businesses.  Since its 1991 launch, the organization has helped grow over 700 businesses through entrepreneurial training, technical assistance, and access to lending for new and expanding businesses throughout Nevada. 
NBOF hosts the Nevada Women's Business Center (NWBC), the only Small Business Administration's Women's Business Center in Nevada. NWBC offers professional business counseling, workshops, conferences, and information services. Micro-entrepreneurs and small business owners are guided through one-on-one counseling, programs, and services to achieve growth and sustainability, which increases the number of successful businesses, job openings, and self-employment opportunities throughout the state. During the last fiscal year, NBOF assisted clients in obtaining over $1,500,000 in direct lending (63% to minority- and women-owned businesses) while establishing ten new small businesses and creating and retaining 77 jobs across Nevada.
For the past two years, First Foundation Bank has partnered with NBOF and NWBC through its "Supporting Our Communities" initiative with a community development grant that provides online and in-person services to small businesses. First Foundation's grant additionally assists NBOF in expanding their programs and services for various loan options, including microloans and small business loans.  NBOF will soon be opening an EDA-financed loan fund to expand access to capital for women, minorities, and low and moderate-income entrepreneurs throughout Clark County.
Brandon Smith, VP, Small Business Regional Manager with First Foundation, joined the Women's Business Center's Advisory Board in 2022. Brandon, along with First Foundation's Small Business and SBA team presented a workshop, "Ins and Outs of Small Business Lending," to help clients understand what banks look for when considering a loan. "I have always enjoyed being able to help educate and guide small business clients, but being able to be a part of their ability to access capital and find support to grow their business and thrive is the best part of my work," says Smith. 
Many small business owners regularly face challenges in obtaining access to capital, and that scenario has become more urgent in recent months. Small Business Roundtable and Facebook conducted a recent survey of over 86,000 small and medium-sized business owners, managers, and employees. This survey revealed that since the start of the current downturn, access to capital has been the greatest challenge facing business owners and the most desired option available for keeping businesses open. 
Local banks, however, tend to favor investment loans to long-term, profitable, and stable businesses rather than taking risks on new and start-up companies. These lending practices embrace loans that are short-term and risk averse. Collateral, term, and credit risk factors disproportionately weaken the efforts of low-income, minority, and women business owners to access sufficient capital.  In response to this issue, Nevada's Business Opportunity Fund created a Revolving Loan Fund (RLF) specifically to support these groups of business owners in Clark County.
To support the Revolving Loan Fund program, First Foundation sponsored NBOF in applying for the Federal Home Loan Bank of San Francisco's (FHLBSF) AHEAD grant program. FHLBSF awards nonprofit organizations a grant each year targeting economic development activity and promoting financial stability in communities within California, Arizona, and Nevada.  The FHLBSF's program awarded $1.5 million in AHEAD economic development grants to 55 member-sponsored projects this past year, and the Nevada Business Opportunity Fund received one. The $27,500 grant will support their Revolving Loan Fund (RLF) to provide affordable microloan and small business capital to primarily low-income, minority, and economically challenged communities in Clark County.
"The continual offer of support and knowing that First Foundation truly cares about our organization is amazing," says Leanna Jenkins, NBOF Executive Director. "It allows us to do our job, meet our client's needs, and exceed our goals."
To learn more about the Nevada Business Opportunity Fund, visit: www.nevadabof.org.