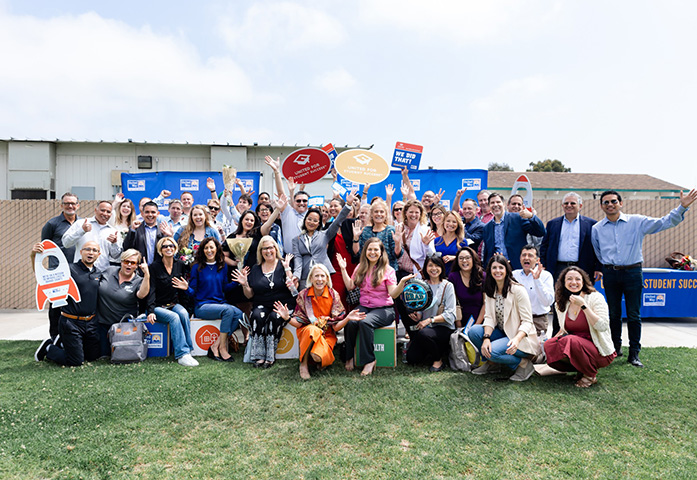 3 minute read
First Foundation Bank partnered with Orange County United Way as a "Supporting Our Communities" Partner in 2022, and we are proud to work alongside its efforts in the community. The specific program at Orange County United Way that First Foundation is working with is called "United for Success," and it provides support to all three of the pillar programs to assist OC United Way with its efforts to increase financial security, ensure local students' success in school, and end homelessness.
With rising rents and low vacancy availability, homelessness has been a growing issue in Orange County. Orange County's average rent increased by 18.2% in one year, which is significantly higher than the national average increase of 14.3%. Similarly, rental unit vacancies were at their lowest in 20 years at 2.4% during the first half of 2022, leading property owners to dramatically increase rents. Orange County rents reached a record average of $2,476 per month – up $381 per month from the first quarter 2021 and $988 per month compared to 2010. This is a dangerous cycle that is difficult to overcome.
Thankfully, OC United Way continues to work to increase unit availability for those in need of homes through its United for Financial Security pillar program. OC United Way facilitates conversations in neighborhoods with property locations that are potential affordable housing developments. They help work through issues with neighbors and city planners to find benefits that the whole community can rally for to get the plans through approval process, whether it be planning for green space, playgrounds, or better utilizing vacant spaces.
First Foundation Bank also participated in the United for Student Success pillar program by joining the 2022 mentorship program. Two First Foundation employees became mentors for local high school seniors on track to graduate and go to college. These students may be first generation or the first in their families to attend college. The program pairs mentors with students to provide them with the support needed to stay on track in school, graduate high school on time, and ensure the individual is both college and career ready. 
"The program was very well thought out," said Emily Sukman, Community Engagement Officer, and first-time mentor. "It had mentor training sessions to help those of us who had never been a mentor before. We would meet and work through the challenges of mentoring a young person. I met with my mentee every other week virtually and we formed a close bond. It was wonderful to not only work through goals she wanted to accomplish before graduating but also to talk through things she was nervous about as she went into this new chapter of her life. It was great just to be able to provide another viewpoint or be a trusted sounding board. I'm excited to mentor again this year with the next class in 2023." 
Their third pillar program of United for Success is United to End Homelessness, which provides low-income families and individuals with services to help them build a better life. One of the most encouraging programs the United Way offers is the Volunteer Income Tax Assistance (VITA). Through this program, volunteers are trained to help individuals and families from low-income households to prepare and submit their taxes. We are partnering with OC United Way to bring the VITA program to First Foundation Bank in 2023.
First Foundation Bank is grateful to be building a strong partnership with the OC United Way to support its pillar programs, positively impacting the community.  
---
To learn more about First Foundation's efforts with nonprofits visit our Community page here: https://www.firstfoundationinc.com/community.
To learn more about Orange County United Way and all the great work they are doing in the community, visit: https://www.unitedwayoc.org.